Creative & Curation:


---
Spillway




Faye Dant, Director of Jim's Journey: The Huck Finn Freedom Center in Hannibal, Missouri; photo: Anna Sirianni, KBIA



Spillway is a longterm, collaborative program grounded in the diverse cultures, communities, and social contexts of the Upper Mississippi River region that stretches from the headwaters in northern Minnesota to the confluence with the Ohio River, in Cairo, Illinois.

Through support for artists, culture-bearers, artisans, and storytellers – alongside the local organizations that support them – Spillway works to create the conditions for engaged projects that honor diverse lived experience, deepen regional relationships, and build networks of knowledge-sharing and exchange that will create opportunities for artists, culture-bearers, and artisans to thrive and to connect with new colleagues and audiences.

Spillway cultivates these values through three interlinked efforts: longterm fellowships for artists and culture-bearers in communities along the River, an online storytelling and knowledge sharing platform, and an annual Spillway Summit -- a free weekend of performances, exhibitions, excursions, and barbecues that also is an opportunity for the welcoming and hosting of the community cohorts involved in this work.

Spillway is an initiative supporting artists, culture-bearers, and local organizations in their expression of the diverse cultures, communities, and histories of the Upper Mississippi River region.

Work is underway with the Honoring Dakota Project in Dakota Homelands; Engage Winona in Winona, Minnesota; Jim's Journey: The Huck Finn Freedom Center in Hannibal, Missouri; the Crossings field school in St. Louis, Missouri; the Historical Society of Brooklyn, Illinois, and The American Bottom Project in the East St. Louis region of Illinois.

I'm grateful for the support of the Builders Initiative and McKnight Foundation as this collaborative work launches in the full program launches in the fall of 2022.

Spillway Stories, a welcoming together of artists, culture-bearers, and storytellers to share the history, experiences, and visions for the future that animate community in the Winona, Minnesota region is currently online.

https://spillway.xyz/


---


Many Waters: A Minnesota Biennial is a look into some of the imaginative and dedicated ways that artists and culture bearers from across the state are engaging with water. This work was featured both at the the Minnesota Museum of American Art and the NewStudio Gallery in St. Paul.

https://mmaa.org/many-waters/

I am grateful for the opportunity to jury this exhibition with Dakota Hoska, Assistant Curator of Native Arts at the Denver Art Museum; Laura Joseph, Curator of Exhibitions at the Minnesota Museum of American Art; and Jovan C. Speller, a visual artist and curator.


High Visibility: On Location in Rural America and Indian Country

---



Shanai Matteson, Overburden/Overlook, 2020 and Sara Pajunen, Mine Songs, 2020



High Visibility is a longterm, collaborative partnership between Art of the Rural, Plains Art Museum, and individuals & organizations across the continent. Through exhibitions, publications, and place-based programs, our aim over time is to boldly reframe the narrative on rural America and Indian Country and to welcome sustained rural-urban exchange. I am deeply grateful to serve as organizing curator for this ongoing initiative.

https://inhighvisibility.org/

In its various efforts, High Visibility welcomes a diverse range of art works, practices, and histories. Our collaborative work aims to spark a national reappraisal of the critical and cultural dynamics within contemporary visual art and socially-engaged practice in rural and Indigenous communities – and provide much needed cultural context in a moment of heightened anxiety on the rural-urban divide.

High Visibility launched with an exhibition at the Plains Art Museum, a gathering of artists, artisans, and culture bearers that was on view through May 30, 2021. This exhibition also coincided with the launch of the High Visibility podcast and the wide distribution of the first issue of the free High Visibility newspaper. Many thanks to the National Endowment for the Arts and the Andy Warhol Foundation for the Visual Arts for their support.



The American Bottom Project

---


Through both an extensive digital resource and The American Bottom Gazette regional print publication, The American Bottom Project invites scholars, activists, artists, educators, and citizens to collaborate towards telling the complicated history of the 65-mile Mississippi River floodplain to the east of St. Louis. Begun in 2013, this work has recently been featured in Art in America and is the supported by Illinois Humanities and a Divided City grant via the Andrew W. Mellon Foundation. I'm grateful to be collaborating with Jesse Vogler, Jennifer Colten, and Alissa Blatter in this longterm work.

http://theamericanbottom.org/

In 2019, Jesse Vogler and I co-convened Anthropocene Vernacular, a collaborative project supported by the Haus der Kulturen der Welt and undertaken with The Luminary and a range of artists, curators, scholars, and activists. This initative shared the multigenerational story of how the St. Louis region's people have lived, cultivated and embodied their everyday culture in the midst of the convergence of social, environmental and economic forces found along this landscape.

https://www.anthropocene-curriculum.org/project/mississippi/field-stations/field-station-3-anthropocene-vernacular/



Public Launch

---



Dreaming Under A Cedar Tree installation, performance, and meal; Sharon Mansur; photograph by Sydney Swanson


Operated from 2016 through April of 2020, Public Launch was a collaborative community space located in a downtown storefront in Keoxa / Winona, Minnesota.

This space and its many intersecting communities co-created a unique, equitable atmosphere for people to gather-- and for artists to offer programs, conversations, and exhibitions that, because of their direct conversations on race, class, gender, and sexuality, could not have been presented alongside each other anywhere else in Winona.

Public Launch has hosted over 70 events and 12 exhibitions, with all programming free and open to everyone. This work included the launch of Ashley Hanson and the Department of Public Transformation's public exhibition and the hosting of monthly One Million Cups entrepreneurial networking mornings.

Exhibitions across these years included Mai'a Williams' Bodies of the Desert poetry/video installation examining myth and the Black diaspora, Sharon Mansur's Cedar Tree Project examining Arab identities in Minnesota, a video collaboration with Project FINE sharing the stories of immigrants and refugees in the region, an examination of the stigmas and erasures encountered by individuals addressing mental health in Joy Davis Ripley's Visible/Invisible photography exhibition/engagement series, and musician Mike Munson's Winona Anthems project mixing music, photography, and storytelling to share the experiences of the community's youth skateboarding scene.

I co-curated this space alongside artist Nathan Bauman and Brian Voerding, the Founder and Executive Director of Engage Winona. Our local work would not have been possible without the support of the Bush Foundation, McKnight Foundation, and the National Endowment for the Arts.



Local Practice

---



Family Video, August 18, 2016; Matthew Fluharty




In 2018, I was commissioned by the Walker Art Center, to edit and contribute to a series of pieces meditating on the current conditions in the rural arts field. This offered an opportunity to reframe the accepted terminology around "rural" and "urban" and, instead, to focus on the idea of local practice, those the questions and relationships raised through deep, long-term, on-the-ground engagement with the particularities of place and community.

https://walkerart.org/magazine/local-practice-mn-artists-guest-editor-matthew-fluharty

Artists and writers featured in this series included Michele Anderson, Ashley Hanson, Bethany Lacktorin, Shanai Matteson, Nik Nerburn, Mary Rothlisberger, Mai'a Williams, and Rebekah Crisanta de Ybarra. Many thanks as well to Fadi BouKaram for the use of his photograph in my closing reflection.



SWITCH

---



installation at the Iowa State Fairgrounds; M12 Studio



This 2016 two-site installation encouraged visitors to draw connections between the history of rural Iowa and its contemporary agricultural landscape, and to explore new avenues for cultural connection and discourse between rural and urban spaces. An installation of archived materials related to Iowa horse culture was presented at the fair site while a video projection made from a show horse's perspective was shown at the busy downtown Capital Square site.

http://m12studio.org/switch

I was grateful to be with my M12 Studio partners in creating this work and thankful for the support of the Greater Des Moines Public Art Foundation.




video by Daniel Martinez Gonzalez




The American Bottom exhibition

---
photograph, Matthew Fluharty



As part of the 2015 Show Up, Show Down series curated by Nancy Zastudil, Jesse Vogler and I exhibited a selection of photographs, alongside a presentations of stories and fieldwork, at Central Features gallery in Albuquerque, New Mexico. This exhibition series included additional exhibitions by Sarah Kanouse, Lucy Lippard, and other individuals working at the intersection of visual arts and social practice.



Burn the Maps
---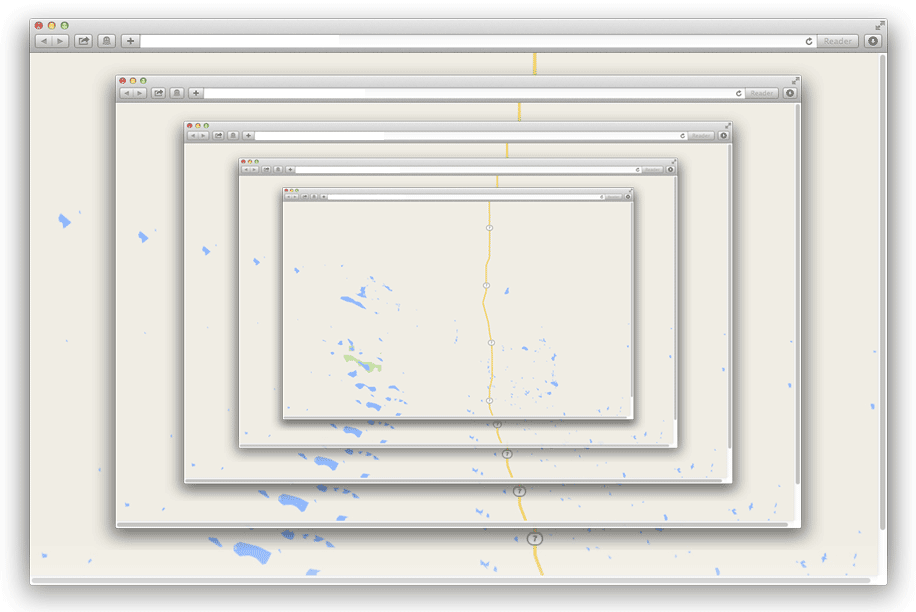 Illustration by Emmet Byrne for Mn Artists and Walker Art Center


This piece came togteher after the conclusion of my initial run of writing the Art of the Rural blog, and the completion of my dissertation on the idea of Rural Modernism at Washington University in St. Louis, during a time of personal transition and taking stock of the transdisciplinary conditions often underneath the center-periphery binary that often typifies "rural" and "urban."

https://mnartists.walkerart.org/burn-the-maps

I'm grateful to Editor Susannah Schouweiler and the staff of Mn Artists and the Walker Art Center for this invitiation, which was presented as part of the convening Superscript: Arts Journalism and Criticism in a Digital Age, held at the Walker in May 2015.